See contest rules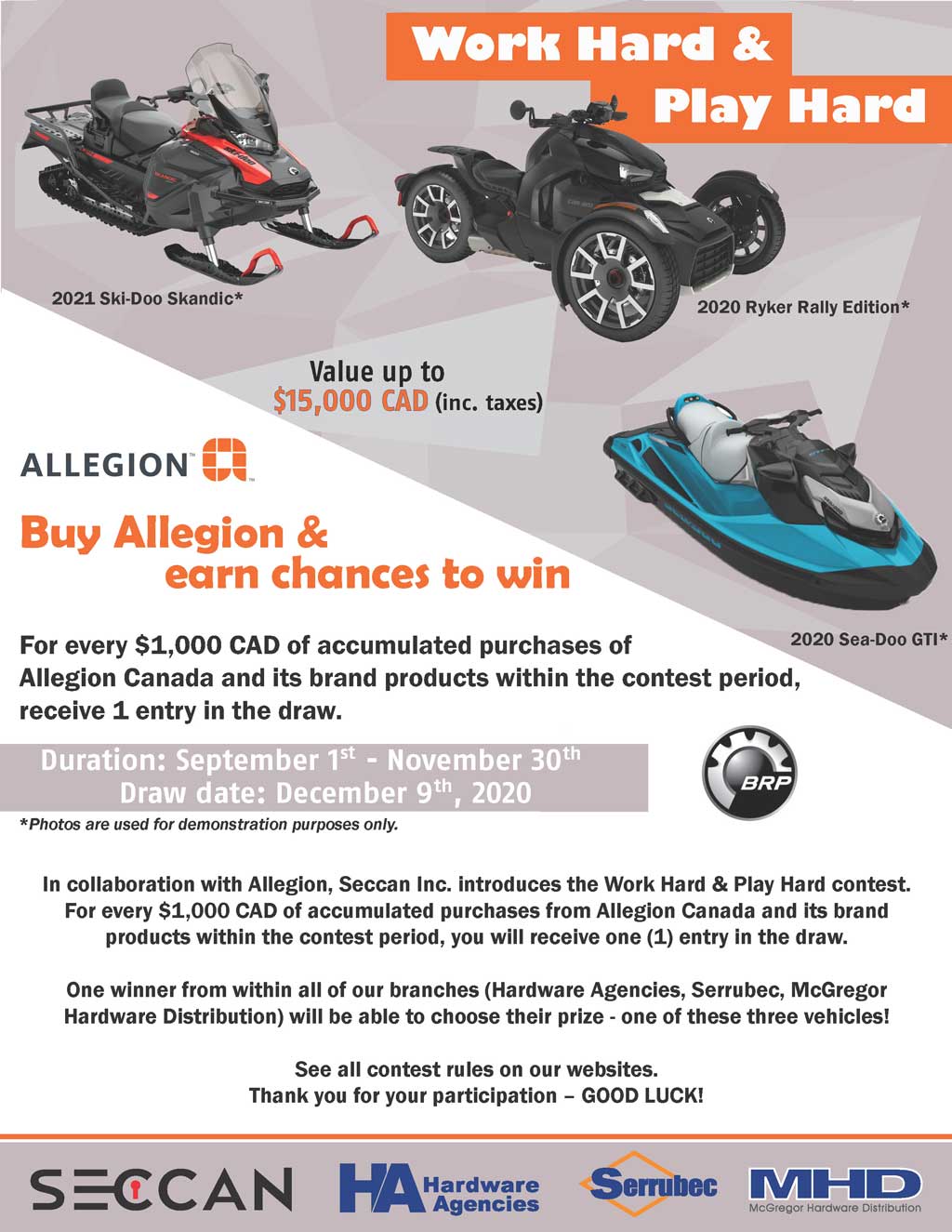 CONTEST: WORK HARD & PLAY HARD
Buy Allegion and earn chances to win.
---
CONTEST RULES
Download contest rules
---
1. Eligibility:
This promotion applies to active customers with the exceptions of any Governmental and institutional account from the federal, provincial and municipal departments. The winning business account will need to be in good standing.
Business must be registered in Canada.
Employees of Allegion, Seccan Inc. and its divisions, advertising and promotion agencies, suppliers and their immediate family members and/or those living in the same household are not eligible to participate in the Contest.
2. Agreement to Rules
By participating, you agree to be fully unconditionally bound by these Rules, and you represent and warrant that you meet the eligibility requirements set forth herein. In addition, you agree to accept the decisions of Seccan, as final and binding as it relates to the content. The Contest is subject to all applicable federal, provincial and local laws.
3. Durée du concours
From September 1, 2020 at 12:00 AM to November 30, 2020 at 11:59 PM
All times are (GMT-05:00) Eastern Time (US & Canada).
4. Raffle
December 9th, 2020 1 pm Location of the raffle is Hardware Agencies 6520 Northam Drive Mississauga, ON L4V 1H9
5. How to Enter
For every $1,000 CAD of accumulated purchases (before the taxes) from Allegion Canada and its brand products (Advantage, Falcon, Glynn-Johnson, Ives, LCN, Locknetics, Schlage, Von Duprin, Zero International) within the contest period, receive 1 entry in the draw
6. Prize
ONE of the following BRP vehicles for a maximum value of $ 15,000 taxes included
2020 Ryker Rally Edition
2021 Ski-Doo Skandic
2020 Sea-Doo GTI

Photos used are shown for demonstration purpose only.
https://www.brp.com/en
The prize is non-transferable. No substitution of prize or transfer/assignment of prize to others or request for the cash equivalent by winners is permitted.
Any trailers for towing, insurances and all other associated licence and costs would be the responsibility of the winner
The prize must be purchased from the closest BRP store.
Prize will need to be claimed before December 30, 2020, 5 pm. Contact your local Seccan division to make arrangements to collect your prize.
7. Odds
The odds of winning depend on the number of eligible entries received.
8. Winner selection and notification:
ONE winner will be chosen with a random draw generator.
The winner will be the business from where the order(s) will have been placed.
The winning business will be notified by email and phone the day of the raffle.
9. Rights granted by you:
By entering this contest and winning it, you grant Seccan and its operating divisions (Hardware Agencies, Serrubec, McGregor Hardware Distribution) the right to use without any further notice, review or consent to print, publish, broadcast, distribute, and use, worldwide in any media now known
the company's name ;
pictures of the winner;
prize claimed and its value
in our news, publicity or information and for trade, advertising, public relations and promotional purposes without any further compensation.
10. Conditions
Owner or representative of the winning business will need to answer a mathematical ability questions to claim his prize..
Seccan reserves the right, in its sole discretion to cancel, terminate, modify or suspend the Contest should (in its sole discretion) a virus, bugs, non-authorized human intervention, fraud or other causes beyond its control corrupt or affect the administration, security, fairness or proper conduct of the Contest.